Aging beef is a technique used by specialty meat purveyors, fine restaurants, and gourmet grocers to enhance meat flavor and improve tenderness. Dry aging is a process whereby primal cuts of beef are stored at refrigerated temperatures, but without protective packaging. The meats are held in these conditions up to five weeks or more to encourage the natural enzymatic processes that result in
improved tenderness and a rich and intense flavor. While many food professionals agree that meat must age to achieve optimum taste and tenderness, the way the meat is aged – wet, dry or both – is a lively topic for discussion as far as packaging goes.
Benefits of aging
During the aging process, the connective tissue and the muscle fibers in the meat are softened, and made more palatable. Beef naturally contains cathepsin and calpaine, and the presence of these two enzymes enables the meat to mature and become tender naturally. However these enzymes need time to work – and they work best at room temperature. Unfortunately, bacterial growth flourishes at room temperature as well. 0°C is the optimum temperature for suspending bacterial growth but the low temperature slows the enzymatic action as well. This means dry aging beef unwrapped in a cold room can be a lengthy process. Add to the time involved, there are specific requirements regarding relative humidity, airflow and hygienic conditions that must be maintained. Dry aging beef is popular, but wet aging in a vacuum bag is another effective way to augment taste and tenderness. What is the difference between aging meat uncovered or in a vacuum bag? Clearly there are advantages and disadvantages of both methods.
Vacuum packaged meats
Before the development of vacuum packaged beef, the only option was dry aging, but by the 1980s, well over 90% of commercial beef was vacuum packaged. In contrast to dry aged beef, the advantages of wet aged, vacuum packaging focused on reducing shrinkage and extending shelf life without sacrificing some of the taste characteristics present in dry aged beef. The clear economic advantages in vacuum packaging greatly influenced how steaks are handled and prepared in the foodservice and retail channels.

Wet aging in meat ripening bags
Wet aging beef enjoyed a great advance with the invention of the meat-ripening bag. Meat ripening bags are manufactured from a semi-permeable material. This specialized material is water vapor permeable, but still offers a barrier against bacteria, mold, odors and other contamination that might be present in the environment. With the use of a ripening bag, meat can be aged outside a freezer at 2-4ºC, yet still gain protected from harmful pathogens. As the aerobic maturation is supported, the result is improved taste and tenderness, compared to conventional wet aging (anaerobic maturing).
Wet aging has other practical advantages as well. Wet aged meat is easily handled, stacked and boxed while aging; it does not require highly controlled (humidity, air flow, etc.) cooler space. Vacuum packaging has enabled the meat industry to store boxed beef in refrigerated storage rooms and distribution facilities for an extended number of days. This provides the processor with increased flexibility to store and age the meat and enjoy a more consistent product.
Combined dry and wet aging
Wet aging can further enhance the effect of dry aging beef. This is a process whereby which the dry aged meat continues to age in a vacuum bag. In this process, the meat after suitable time in a dry aging environment, is vacuum packed and placed in a cold room or aging unit to mature. Important advantages of this method are the limited weight loss of the meat and a significant reduction in the risk of contamination. Easy to operate vacuum chambers are available in various sizes that range from counter top models to large floor-standing units – each designed to accommodate the quantity of product being processed. Special vacuum bags are required for this style of packaging.
Conclusion
When choosing how to age meat, it is not simply a question of dry or wet. Dry aging and vacuum packaging can go hand in hand. Dry aging enhances the flavor; wet aging tenderizes it further, controls the weight loss and reduces the risk of contamination. Meat purveyors and fine restaurants are encouraged to discover the
method or combination of methods that produce the results they seek.
"In contrast to dry aged beef, the advantages of wet aged, vacuum packaging focused on reducing shrinkage and extending shelf life without sacrificing some of the taste characteristics present in dry aged beef."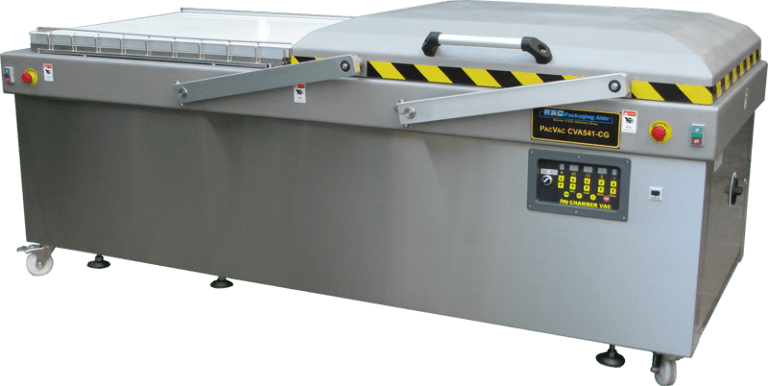 "By the 1980s, well over
90% of commercial beef
was vacuum packaged."