Toxic Debris Removal is in the Bag
Everybody knows that hiring a certified asbestos abatement company is the wisest and safest course of action when it comes to removing asbestos or other toxic materials from a residential, commercial or public building. It's not the kind of project an untrained individual wants to tackle as a weekend project. Asbestos abatement companies will test for toxic materials, follow strict environmental regulations and processes, and utilize the right abatement removal equipment to keep them, others and you safe from exposure. Selecting the right removal equipment and containment supplies is as important as any of the other aspects of this nasty job. Richland, Missouri-based Rankin Plastics, LLC plays a crucial role in making contamination abatement a safe procedure. Rankin makes plastic bags. Big ones. Not only are the bags big, but they are specialized as well – and they perform an essential job when it comes to containing contaminated material.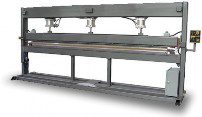 Founded in 2015, Rankin Plastics, LLC, has focused on the manufacture of plastic liners for use inside industrial dumpsters.. These extremely heavy-duty polyethylene liners fa- cilitate disposal of contaminated materials without leaving toxic debris on the bottom or sides of the refuse box. The process for making the giant bags is as important as the jobs they perform. Bags start with wide rolls of flat poly film tubing, which is folded to create gusseted sides – think of a giant food storage bag. The finished bags fit snugly into the disposal container and serve as an impervious barrier between the box and the contaminated debris contained safely inside. Because Rankin LLC depends on their Vertrod BS sealer in the manufacture of their heavy-duty polyethylene liners for containing asbestos debris.
Vertrod – No ordinary sealer
Manufacturing such a specialized product requires some equally specialized capital equipment. Dependability is why Rankin Plastics founder, Damon Hawk, turned to Vertrod for the poly sealing equipment he required to make the big bags. From the start, Hawk chose a 96" Vertrod impulse sealer. He chose Vertrod, as the brand had a reputation for rugged construction and the ability to produce uniform, dependable, hermetic seals in thick-gauge thermoplastic materials. The 96" Vertrod sealer served its purpose well, but Hawk wished to make even larger bags to accommodate larger debris boxes. Browsing the Vertrod website, one machine caught Damon's attention: the giant 144" Vertrod BS Impulse Sealer.
Durability was an essential consideration, and the welded rectangular steel tubular frame on the 144" BS would provide the structural stability necessary to make seals at high pressure. Essential to Rankin's production method, the "open back" design enabled films to be fed from the front (or back) of the big sealing machine
and pass between the sealing jaws for uninterrupted flow. The sealer Hawk chose was a 230V single-phase design featuring three massive, direct pressure, pneumatic cylinders. The thermal impulse sealing system featured independently-adjustable seal and cool timers with an extended range to 7.5 seconds. This feature made precise adjustment easy to achieve and to allow for saturating heat through the thick multi-layered film.
Built-to-order customization
Damon Hawk had a machine in his mind that could greatly improve his
bag-making capacity. But could the concept move from imagination to engineering to manufacturing? At Vertrod, the answer was yes. The machine would need four seal- ing bars (dual parallel sealing jaws) instead of the standard two-bar set-up. The two seals would measure nearly an inch wide with a small space between each 144" long seal. In the margin between the seals, a cutter would automatically run along a track to separate the finished bag after each cycle. The engineers at Vertrod called this pneumatic-powered cutting feature the "flying knife". It was just what Damon Hawk had in mind. The sealer included an optional, high-temperature package, which delivers sealing temperatures up to 650ºF. The unique temperature control system delivered the exact heat required along the entire 144" seal bar; hot enough to seal material four layers thick, but not so hot as to burn thinner two-layer areas. 144" is a long bar – and perfect alignment is essential. To facilitate alignment adjustment screws are positioned every six inches along the seal bar. Precision control was required, and the Vertrod BS delivered. Hawk also appreciated the fact that the 144" Vertrod BS impulse sealer is made in Cleveland, Ohio – more importantly, it included a 3-year limited warranty.
The Vertrod BS was built and installed, enabling Rankin Plastics, LLC, to pro- duce the giant protective bags required for toxic debris collection. In a way, Vertrod has made a small but unique contribution toward a cleaner and safer environment.