Digital transformation is here!
Over the past several years, the FDA has made a significant effort toward establishing a unique device
identification system that will clearly identify medical devices along their entire value chain – including packaging. When fully implemented, most devices will be required to carry a label that will include a unique device identifier (UDI). The objective is to adopt a universal identification system, which can be read by both humans and machines. By doing so, the device manufacturer will be able to provide specific and detailed information about each device they package. This data will then be compiled in the FDA's Global Unique Device Identification Database (GUDID).
The UDI system will provide a number of key benefits to the health care products delivery system. Implementation will facilitate comprehensive tracking for compliance at every step of the value chain; it will modernize the current system for tracking medical devices, and ultimately assure product quality and patient safety.
For medical device packaging, the time for digital transformation is now.
In order to meet the demands placed on it by the FDA, the medical device industry is required to find a strategy for adapting to the new regulatory requirements. Like in so many other industries, the transformation will be a digital one. It will require taking much of the technological developments that have transformed other industries and applying them to the medical device packaging process.
We've seen a similar transformation in the pharmaceutical industry, where new compliance requirements precipitated a fundamental redesign of the product supply infrastructure – from manufacturing to packaging and dispensing through patient delivery. As device makers follow suit, the results will greatly simplify the road to regulatory compliance.
Medical supply chain executives find most regulatory compliance, and the associated complexity, increased administration, and bureaucracy a significant hurdle. Hopefully, medical device manufacturers will not experience any significant headwind in order to comply with UDI guidelines or other regulatory requirements imposed on the industry. The digital transformation will help simplify the medical device labeling process and make regulatory compliance easier to achieve.
Paper is on the precipice of becoming the medium of the past
Paper catalogs are still prevalent in the medical device industry, and these outdated processes make compliance with UDI a costly, time-consuming headache. Following the UDI transformation, paper-based catalogs (like those of countless other industries) will be relegated to history. All of the information needed to produce and maintain labels – and all the data behind the label – will be in a digital format. By doing so, all the stored data can be accessed and updated virtually anywhere, in real time. The digital transformation will enable manufacturers to easily track products in the event of a problem and correct issues quickly and efficiently.
With all the production data immediately available, manufacturers will be able to search for anything in the database with complete version control history. Plus, the manufacturer can ascertain the level of access each system user has been granted, and by taking full control of the process, qualified personnel
will be completely prepared to respond to changes in regulatory compliance.
Digital printing and record keeping will result in numerous, significant advantages. You will be able to track who made what changes, preview those changes before they are printed, and monitor the process from end to end. Plus you will be able to reproduce UDI printed packaging details years later in order to
respond to customer queries or audits. Paper trails are increasingly hard to follow.
A better approach to quality assurance
Despite all of the modern advancements we've seen in quality control, the number of product recalls is actually going up. In fact, a recent Medical Device and Diagnostic Industry (MDDI) article noted that in 2016, the industry had the highest number of medical device recalls since 2000. What's more, the number
of units recalled in the third quarter of 2016 reached the highest level in four years.
With the digital transformation, best practices for quality assurance will be about having the right technologies at each stage of the production process so you can validate that each step has been completed according to the specifications and requirements defined for that process. The right technologies may
include a modern label management system that will facilitate the transition from paper-based processes to full digital and provide the necessary transparency and traceability to monitor label and packaging production.
By establishing a system for the adequate identification of medical devices through distribution and use, the rule will serve several important public health objectives:
Reduce medical errors. The presence of a UDI that is linked to device information will facilitate rapid and accurate identification of a device, thereby removing a cause of confusion that can lead to inappropriate use of a device. Using a device's UDI, you will be able to use the GUDID to positively identify the device and obtain important descriptive information, preventing confusion with any similar device, which might lead to misuse of the device. Health care providers will no longer have to access multiple, inconsistent, and potentially incomplete sources in an attempt to identify a device, its key attributes, and a designated source for additional information.
Simplify the integration of device use information into a data system. UDIs will allow rapid and accurate data acquisition, recording, and retrieval. For example, the use of UDIs in computerized physician order entry systems will help ensure that the intended device will be used in the treatment of a patient, rather than some similar device that may not fully meet the needs of the health care professional who ordered the use of the device.
Provide for more rapid identification of medical devices with adverse events. An essential prerequisite to resolving adverse events is the timely and precise identification of the particular device or devices that may have a connection with an adverse event. The inclusion of UDIs in adverse event reports would lead to greater accuracy in reporting by eliminating uncertainty concerning the identity of the device that is the subject of a report.
Efficient resolution of Device recalls. Delays in identifying recalled devices can result in the continued use of those devices on patients and involves an increased risk for patient harm. A device labeled with a UDI can be identified rapidly and with great precision. The more rapidly a recall is implemented and completed, the more rapidly the risks presented are reduced or eliminated.
More effective FDA safety communication. By citing UDIs, FDA will be able to more precisely focus safety alerts, public health notifications, or other communications, eliminating confusion with similar devices and allowing more rapid responsive action.
Additional benefits. FDA expects the UDI system will provide additional benefits. For example, UDIs can be used in educational and informational materials to allow readers to quickly obtain additional information from the GUDID and other FDA databases. UDIs could play an important role in inventory management. UDIs may be useful in the provision of high-quality medical services. UDIs and GUDID data, when linked with other FDA data, will help identify alternative devices in the event of a shortage and will contribute to better detection of counterfeit devices.
While not required, FDA anticipates that providers will include the UDIs of a wide variety of devices in patients' electronic health records and personal health records. This information will strengthen the health care community's ability to identify the specific devices implanted into patients and will improve
response to post-market monitoring activities, including adverse event reporting and recalls, thus contributing to a more complete safety and effectiveness profile for medical devices.
Standard format for dates on a device label. The UDI will also better ensure dates on device labels
are not confusing or misleading to users thereby ensuring the safe use of device. This can be achieved by requiring that dates on medical device labels conform to a standard format consistent with international standards and international practice—year-month-day (2018-10-30). This will ensure dates on medical device labels are unambiguous and clearly understood by device users.
Each UDI must be provided in a plain-text version and in a form that uses automatic data capture technology. The UDI will also be required to be directly marked on a device that is intended for more than one use, and where reprocessing is required before each subsequent use.
The FDA plans to make most of the data reported under this rule available to the public, however it will not include any patient information. Each UDI will consist of two portions: A device identifier (DI) that corresponds to the specific version or model of the device and the labeler of the device (in most instances, the labeler would be the device manufacturer, but the labeler may be a specification developer, a single-use device re-processor, a convenience kit assembler, a re-packager, or a re-labeler), and a production identifier (PI) that more precisely identifies the specific device by providing variable information, such as the lot or batch, the serial number, expiration date, the date of manufacture, etc. The label may also contain other useful information as illustrated in the fictitious
example to the right.
Transitioning from a fragmented systems to a unified solution
Today, device manufacturers print labels for numerous markets and several languages in various locations. It's not a simple process to make changes to these labels, since legacy printing systems use label templates that cannot be easily modified. Looking toward future requirements, as barcodes and unique
identifiers need to be added and recorded for every saleable unit, digitalization provides a big benefit.
In a digital world, everything is connected. There are no longer disparate systems and homegrown solutions. The IT department, instead of spending time implementing label change requests and updating templates, is focused on helping the organization develop a deeper understanding of its production and packaging processes and how to optimize these steps. Label design is placed in the hands of the business users who are closer to the customers. This also paves the way for centralizing label creation to work toward getting the most business value out of your label and packaging management systems.
The future of intelligent printing
Post-transformation, label templates will be intelligent, and able to adapt dynamically to the printers being used. Future systems will have the ability to adjust the resolution of the label and barcode information so that labels always print correctly, regardless of the printer. The goal is to eliminate hard-coded templates and manual checks for template variations. Everything will be handled by the system. Complete integration with all printers will also mean less unscheduled downtime, as users can be notified when printers are offline and view the real-time status of all label print jobs.
Ensuring consistency across the entire supply chain
Of course, this newfound template flexibility doesn't have to be limited to production sites. After completing the digital transformation, practitioners can then extend the processes to third-party vendors and contract manufacturers. One will choose which aspects of a label template are open to editing by an
external party, pre-defining certain fields before sending the template. The type of printer becomes irrelevant, and you can ensure consistent package labels across the board.
Going Digital Improves the Process
The potential of improvements through digitalization may extend beyond the label production process to other areas of medical device manufacturing. It offers insight into the production process, helps identify flaws in the process, and improves productivity. These benefits could combine to allow manufacturers to make smarter choices in several areas of their business.
Mandated packaging rules will reduce existing obstacles to adequate identification of medical devices.
By making it possible to rapidly and accurately identify a device and the key attributes that affect its safe and effective use, the identification rule will reduce medical errors or confusion concerning use. The identification system will lead to more accurate reporting of adverse events by making it easier to identify the device prior to submitting a report. It will allow FDA, health care providers, and industry to more rapidly extract useful information from adverse event reports, pinpoint the particular device at issue and thereby gain a better understanding of the underlying problems, and take appropriate, corrective action. Digitizing will also require dates on medical device labels to conform to a standard format to ensure those dates are unambiguous and clearly understood by device users.
Under the UDI system established by this rule, the health care community and the public will be able to identify a device through a UDI that will appear on the label and package of a device. The UDI will function as the key that can be used to obtain critical information from the GUDID about the medical
product. The GUDID will include only information that is important to the identification of devices. UDIs will appear in both plain-text format and a format that can be read by a bar code scanner, phone or some other digital technology. Needless to say, the quality of the printing will be exceedingly important.
Digital printing on Tyvek®
Digital printing on Tyvek® is a fast and cost-effective way to produce long or short-run printed packages requiring serialized and/or variable data. As a result of the UDI initiative, printing solution providers continue to explore new digital technologies into their operations. However, it is important to understand
Tyvek® medical and pharmaceutical packaging materials are not compatible with all printing processes.
PAC partners with Domino Printing Sciences, PLC for printing UDI on Tyvek®
UDI was not the first medical packaging challenge PAC would encounter. A pioneer in the packaging industry, PAC Machinery was one of the first companies in the world to provide machinery that could perform validatable packaging for the medical device industry. Validation ensures that all aspects of the sealing process that influence package integrity must be monitored, measured, and controlled. As a leader in the medical device packaging industry, PAC clearly identified UDI as the next challenge the company would choose to conquer. The key would require partnering with a proven print solutions expert.
In 2017 PAC Machinery partnered with Domino Printing Sciences, PLC to develop printing capabilities that deliver consistent, high quality serialized codes on medical device packaging. The packaging would face strict Food and Drug Administration standards for UDI. Mark Goldman, Chief Operating Officer of
PAC Machinery noted "We performed extensive testing, and found that Domino printers had the capability to deliver the results we required for printing directly on DuPontTM Tyvek®".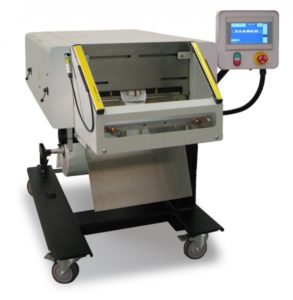 By integrating the Domino V320i high-speed thermal transfer overprinter on PAC Machinery's Rollbag Magnum HS Med automatic pouching system, medical device manufacturers can now print on the Tyvek® side of poly/Tyvek® rollstock material,
eliminating the time required to apply an additional label on the clear side of the film" Goldman added. An important additional benefit is full product visibility on the clear poly side of Tyvek poly pouches. The Rollbag Magnum HS Med configured
with the Domino V320i printer, is a repeatable, dependable solution that will now set the standard for meeting governmental requirements for UDI.