"On the Pulse of Packaging" EP 3 - From Pack Expo International 2022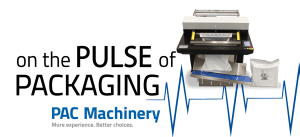 The packaging industry came together at PACK EXPO International Oct. 23-26, 2022 with over 44,000 attendees, and 22 hundred exhibitors showcasing innovative – business changing- packaging and processing equipment in over 1.2 million square feet at McCormick Place in Chicago. 
As Leaders in Packaging, we brought it!
 For Sure – and it didn't go unnoticed in the industry either! PAC was recently recognized for our "standout exhibit" (read more here.)
Coming off a new website launch and a rebranding of our bags and materials division, PAC Machinery opened the show with our largest exhibit to date (2,500 sqft.) Here's a recap of what was new!
We showed more machines than in any other show we've done, many of which are our top sellers.
We showed NEW sustainable, paper packaging materials for automatic baggers and flow wrapping.
We debuted a new exhibit for bags and materials
Several of our banners were NEW
We showcased a special exhibit in the "Pack To The Future Exhibit (see it in our event page)
We participated in the "Industry Speaks" educational sessions sharing our deep industry experience in top machines for fulfillment and the latest in sustainable packaging options.
And we recorded our first group panel interview on The Pulse of Packaging show LIVE at the show! Watch it here! 
Video Transcript 
The packaging industry came together at PAC Expo International October 23 – 26 2022, with over 44, 000 attendees and 2,200 exhibitors showcasing innovative business changing packaging and processing equipment and over 1.2 million square feet at McCormick Place in Chicago. PMMI reporting the packaging industry is booming as a 15 billion dollar industry with 40% growth in recent years. Breaking sales records as well, PAC Machinery opened the show with our largest exhibit to date. With back-to-back years of consistent sales growth and having just launched a new website uniting PAC Machinery Brands, PAC showcased many of our vacuum and heat sealers, flow wrappers, shrink packaging machines and automatic Baggers with materials.
Hi I'm Shannon Winans, host of "On the Pulse of Packaging." We're going to talk to some of our team members here representing PAC Machinery at our booth at the Pack Expo International show and it's been a very busy time for our show. We've had a lot of equipment our best biggest exhibit ever and we're excited to tell you more about our experience. We're going to talk a little bit about our experiences at the Pack Expo International show and what people were talking about, what some of the interest was and some of our visitors today.
Well I thought the big theme was a recyclable paper that was a big hit definitely yeah that everybody was very interested in that. We all saw a lot of people in the food industry looking for a better way to do things to seal up pouches and things like that. They were looking for a better way to do that so that was cool to talk to them about it and also kind of figure out what is the right solution would be for them. That's why a show is so great.
I had a guy come up he gave me a video and he showed me exactly what he was doing. He came prepared and I was able to quote him right on the spot! That's awesome.
Q- What about you Blake?
I noticed a lot of people that we've already met before and we've already spoken with before coming by to kind of really see exactly what things look like in person. It just changes their whole opinion on things where they can actually get their hands on it touch it, see it, feel it. A lot of fulfillment customers finding out that they can do fulfillment in different ways like with our side sealers not just our Rollbag Automatic Baggers. The incorporation of that label printer just changes the game so really cool stuff going on day one.
There's a couple things that we're featuring here. We put some different machines together already mentioned the label applicator at the end of the Clamco 4C combo where I can make multi-packs, shrink wrap something and then print and apply a label. Then it goes to fulfillment center used primarily for spill containment so good entry level options for them.
 This is a good show to be at. I met a new distributor they've been doing this for 40 years and we haven't worked together so that was good and a lot of existing distributors. I had one guy here who said you know his father used to do business with my dad back decades ago so it's crazy. The packaging industry is a small world for sure.
Q- Tony you're new at PAC Machinery. You're trying to grow out your territory. Why is a show like this good for you?
Well you just mentioned distributors. I'm trying to build that area up in my territory so meeting some of the actual distributors that are here is great. You mentioned there was one from Seattle and that's part of my territory so that's going to be great.
Q- What about you Blake?  Have you met people from your territory?
Yes like I said before most people are coming in that I've talked to over the last 6-12 months and then kind of really making their decisions now. I think before the end of the year so it's great timing for the show as well.
Q- To wrap it up, any last words guys?
You know if you missed the show or you go back and feel overwhelmed give us a call we'll chat it up or we'll go visit you.  We look forward to  helping solve the packaging problems that many of these visitors face.
Q- Tony one last thing the new website – and Greg I know you want to talk about this, what a resource for our customers?
Yes absolutely! You know we've united all the brands under the
pac machinery.com domain and that's been really great just to see the versatile range of solutions that we can offer to really solve packaging issues, packaging problems. A lot of great resources on that website! Well I use the website about three or four times today with customers so yeah absolutely very, very helpful. Great videos and resources so you want to check out pacmachinery.com. Thanks for tuning in.