The compartment bag has a large number of advantages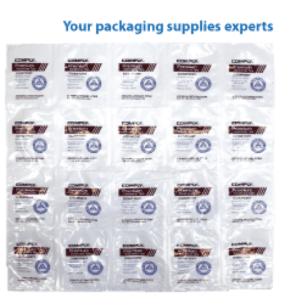 In an increasingly "enabled" do-it-yourself (DIY) world – where reductions in manufacturing costs directly influence lower prices – consumers are relying more and more on products that come in kit form. Some manufacturers are able to successfully leverage this approach by providing well-engineered components and hardware combined with easy to understand assembly instructions. A proven leader in this area is the Scandinavian ready-to-assemble furniture giant, IKEA. IKEA discovered long ago that simplified step-by-step instructions featuring uncomplicated line drawings enabled customers to quickly assemble products regardless of their experience with building or using hand tools. Add to this schema is the widespread use of compartment bags.
The compartment bag has a large number of advantages over small sacks of loose parts – or worse still, one bag of parts. The compartment bag can be arranged and labeled in such a way that the required bits and pieces are organized in the proper order required for fast and easy assembly. The groupings of fasteners and other parts help to inform the assembler in terms of the steps and tools needed, as well. Sizes and quantities are easy to identify. Parts counts are more accurate, and the possibility of confusing parts that may look similar is greatly reduced.
In some cases a compartment bag can serve as an entire retail package. Perfect for kits containing a small number of parts, games, and kits, the appeal of seeing an array of pieces enclosed safely within the compartment bag is nearly universal. Plus configured with a printed header card and hang hole, the package can be retail ready.
Compartment bags are the ideal solution for assortment packaging. Small hardware items of various sizes can be organized in a visual way, plus each compartment may be opened, as needed, keeping the remaining parts safe for future use.
Unique applications
The usefulness of compartment bags is not limited to organizing and containing small pieces and parts. In 1976, PAL Orthotics Lab began manufacturing prescription orthotic devices for the foot. The company offers a comprehensive catalog of corrective foot devices including prescription orthotics, diabetic and accommodative inserts, ankle braces, and therapeutic shoes. Prescription orthotic devices of this nature are designed specifically for use in the right and left shoe, and they are not interchangeable. Though the devices look very similar, it is essential that the proper device be used on the designated foot. Distribution powerhouse Armor Packaging has been purchasing compartment bags from PAC and supplying these bags to PAL for over seven years. 
The specialized compartment bags are printed on two sides with the front featuring a clear window to show the product; the back is white with instructions for using the product. Printed on the front of the bags are the designation of right foot and left foot. One compartment contains the right device and the other compartment the left. The compartment seal keeps the product separated and allows the customer easy access and includes instruction for use.
The adoption of compartment bags is growing quickly, and as a leader in the custom compartment bag manufacturing industry, PAC Machinery is well positioned to support this growth well into the coming decade.