Cyclist discovers that finding the cure for dry, tasteless energy bars can be an uphill journey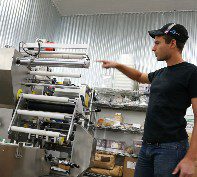 Pictured in his Tucson, AZ manufacturing facility, Brian Cornelius depends on his stainless steel model FW 400F Horizontal flow wrapper from Packaging Aids. The flow wrapper includes a hot stamp printer (for lot, date, best by, etc.) and a gas flush option that drives flavor-robbing oxygen from the package just prior to sealing.
Tucson, AZ native Brian Cornelius was a competitive bicycle racer with an inventive spirit. Challenged with long, energy-draining bike rides, he wanted a quick snack that would give him the energy boost he required for top performance – but it had to be moist and it had to taste good. He started like so many others by making his own trail mix, but he wanted something better. After nibbling his way through countless dry, tasteless energy bars, Cornelius decided to create an energy bar of his own. After trying a hand full of his favorite ingredients in various combinations, he discovered a winning recipe that appealed to him as well as his hungry cycling buddies.
After referring to his new energy treat as "Our Bar" for a while, the brand RBar was born. Before long, this Tucson-based energy bar startup experienced serious growth. Jammed into a small commercial kitchen in the former 17th Street Farmers Market, RBar demand grew from 4,000 bars in February to 18,000 in March 2012. Following a re-branding effort, and with business guidance from Startup Tucson's "Thryve" program, Cornelius' venture started experiencing explosive growth.
Brian wanted to develop a truly superior snack, so no emulsifiers or preservatives are used. Significantly more moist than other energy bars, and much more tasty, Cornelius blends flavors like lemon poppy seed and prickly pear pecan, for a well-defined, balanced taste. And, RBar keeps things simple with no more than a handful of ingredients, like dates, dried fruit, and nuts. "Almost every energy bar on the market uses date paste," said Cornelius. "We used to use date paste, too, but have switched to blending whole dates into our bars. It makes a huge difference in the final product."
Entrepreneur at hart, Brian Cornelius has a hand in every aspect of RBar's production. This includes the uncommon practice (for boutique brands) of wrapping and packing the product.
"You could get energy bars on the market faster using a co-packer," says Cornelius, when asked about wrapping and packaging using a contract packager. But, with his desire to control quality at every step, the decision was made to handle every aspect of production in-house – including wrapping the bars.
Brian Cornelius was in pretty deep water when he started experimenting with recipes for goodies, but he was out of his element when it came to packaging equipment. Meet Colin Cotter at SupplyOne in Tuscon, AZ. "Brian came to us at a very early stage of his new business", notes Colin Cotter.
"We provided direction, advice and some guidance in the beginning. Before too long Brian's products started to gain traction and demand grew quickly. He needed professional packaging along with professional packaging equipment and he needed it fast". Colin Cotter and Pat Nations (SupplyOne Technical Service Specialist) had just the solution in mind – it was a model FW 400F flow wrapper from Packaging Aids in San Rafael, CA. Cotter explained that the model FW 400F flow wrapper was a perfect fit for a startup like RBar. "The FW 400F flow wrapper was priced right, plus it could be configured with a number of advanced options, including a printer and gas flush feature", explained Cotter. Today, RBar is picking up speed as Brian Cornelius and company hit their stride.