PAC Machinery Bags and Materials is Going Green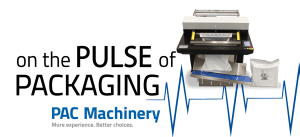 We have an exciting announcement that you will hear right here, first, on Episode 8 of "On The Pulse of Packaging" from our Bags and Materials division featuring General Manager, Greg Quinn and Sales Specialist Jessica Nick. 
PAC Machinery Bags and  Materials is transitioning our bags to ALL being produced with a minimum of 25% recycled content as standard! 
This is a huge commitment to reduce our environmental impact and PAC has been working to make this happen as the industry is "going green" transitioning to more sustainable packaging options as the market demands!  Now PAC Machinery Bags will be made from at least 25% post-industrial recycled resin as standard on orders. 
In addition, PAC Machinery Bags and Materials are sourcing the corrugated materials for the bags from third-party, sustainable-certified vendors. These bags are used on any brand of automatic bagging machine to bag and seal a variety of products for industries such as (industrial, automotive, e-commmerce fulfillment, and more.)
PAC customers have always been able to get the Rollbag bags produced with up to 100% recycled content and customers may also request virgin bags as well containing no recycled materials, for example, medical product customers who require a pure bag. 
As PAC Machinery Bags and Materials releases this news, it is also in sync with PAC Machinery's  new Corporate Sustainability Commitment that you can read here on our website.  This summarizes our company values around our sustainable goals. 
Video transcript Episode 8
Hello! I'm Shannon Winans, the host of "On the Pulse of Packaging" and I'm happy to have Greg Quinn and Jessica Nick here with me from the PAC Machinery bags and Materials Division with a huge announcement about bags for automatic bagging machines. tell us more about this exciting product announcement that you have Greg!
Thanks Shannon. Yes PAC machinery's Bags and Materials Division is increasing its efforts and sustainability by transitioning all bags ordered from us to be produced with at least 25% industrial recycled content unless customers request something different.
Q- Wow this is super huge news! So tell us what you have been doing to make the line of bags transition to all being made with recycled content and being able to offer that as standard now.
Well, we wanted to further decrease our environmental impact we've been working to make it happen because we feel that's where the industry is headed. We want the packaging industry and our customers to know that all of their bags will be made with 25% post-industrial recycled resin as standard.
Wow and I hear there's even more exciting news. What about the materials on the rollbags?
That's right! We are sourcing our corrugated materials from sustainably certified third-party vendors. It's an exciting product announcement not only for the bags themselves but in the packaging.
Q- PAC Machinery bags materials have been a really early adopter of sustainability in packaging correct Greg ?
That's correct Shannon. We've offered a variety of types of recycled bags and percentages of recycled content for a long time now. Our customers have even been able to get rollbags produced with up to 100% recycled content but now minimally our customers will get bags made of 25% recycled material and that's really exciting to be able to make that our standard offering now.
That is really exciting and from everything I read in the packaging industry, it's all about sustainability. This is just such a huge topic right?
Jessica you're right Shannon. This new sustainability initiative is really great for our growing customer base of environmentally conscious brands and businesses. Customers that do not currently buy their bags and materials from PAC Machinery, they really should now because of this new sustainability initiative. It's just super huge. I really encourage everybody out there that has an automatic bagger to contact us, get in touch and get a quote from our team here.
I want to thank you both for sharing this big news with us today and I'm excited to help get this news out for you. Thank you Greg and Jessica