What's New in Sustainable Packaging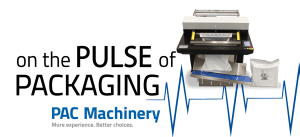 There's a lot happening in Sustainable Packaging!
We talked to Greg Berguig, VP of Sales and Marketing at PAC Machinery and he said much of this is being driven by consumer demand for more environmentally-friendly packaging. – both in packaging materials and on the equipment side.
PAC Machinery is adapting and updating product offerings to prepare for the demand for sustainable packaging and has been working on increasing the recycled content percentages in their materials for automatic baggers.  PAC has developed mailer bags that are actually made with over 90% recycled materials. The bags are made with over 50% (PIR) Post Industrial Resin, over 20% Consumer Recycled and over 20% Ocean Bound recycled plastics. These products are available through PAC's Bags and Materials Division and are ideal for brands that want to have a high degree of bags made of recycled content.
Another innovation coming in 2023, is PAC's paper Rollbags that eliminates the reliance on the plastic poly mailer once and for all. PAC's brand, Fiberflex® paper mailers for Rollbag automatic bagging machines is water repellant and can be recycled in the homeowner's curbside recyclable container.
PAC's Rollbag Brand of Automatic Baggers deliver exceptional value, speed, and flexibility for bagging operations.  Take a look at the machine models available.
PAC is also working on curbside recyclable paper mailers for our line of flow wrapping machines. This will be ideal for the food industry where flow wrapping machines are ideal for their individually wrapped products.
PAC Machinery offers materials and machinery  which makes it ideal to get both from the same company to ensure that your machine and bags are working together in the most optimal and sustainable way possible.