PAC Machinery Ready to WOW at Pack Expo East in March
Show Producers Prepare for a Successful Event with more Exhibitors Than Previous Two Shows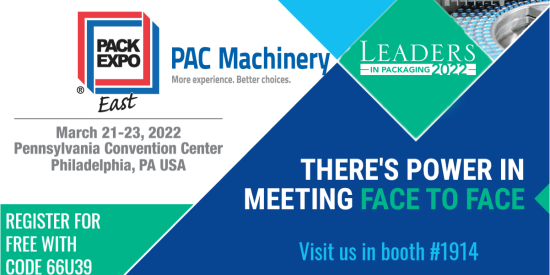 FOR IMMEDIATE RELEASE 
San Rafael, CA (January 31, 2022) – PAC Machinery, a leader in the flexible packaging industry with one of the most comprehensive ranges of equipment, will start the 2022 tradeshow season at Pack Expo East an exhibitor (booth #1914) March, 21 – 23, 2022, at the Pennsylvania Convention Center in Philadelphia, PA. This week according to show producer PMMI, The Association for Packaging and Processing Technologies, the show has already surpassed the size of the last two PACK EXPO East events in 2018 and 2020, which was held just before the pandemic. PMMI reports exhibit sales continue to trend upward and are already 15% ahead, with a 9% increase in the number of exhibitors – including 21 new exhibitors signing up in the last two weeks.
This biennial event is one of the best ways to see technology in action, averaging over 400 exhibiting companies. PAC Machinery agrees, having had a successful exhibit last September at the Pack Expo Las Vegas show. At the upcoming Pack Expo show in March, PAC will feature four state-of-the-art packaging machines including the NEW PVT Plus Med Sealer, a validatable vacuum sealer for medical and other critical packaging applications which require precise control of all sealing process parameters.  PAC debuted this machine at Pack Expo, Las Vegas last September. Medical/pharma packaging was a top market for PAC sales last year. PAC's exhibit, will also include live demonstrations with PAC machine experts on a range of top performing packaging machines including: the Rollbag R785 and Rollbag R1285 Automatic Baggers and the D545AV Band Sealer.
PAC Machinery Vice President of Sales & Marketing, Greg Berguig "We look forward to showcasing all the different ways that our customers can automate their bag and pouch packaging processes," Berguig said.   
Visit PAC Machinery at (#1914) to see these other great machines:
The Rollbag™ R785 Automatic Bagger – This system is a unique, all-electric tabletop automatic poly bagger that uses the same electronics as our larger floor standing baggers, making it a dependable, industrial quality, multi-shift packaging solution. Using an advanced control system, the R785 is able to operate at a rate of up to 40 bags/min, ensuring that machine speed is not the limiting factor in your packaging operation. The R785 automatic bagger is engineered to accommodate bags on a roll up to 12" wide and 20" long. The high-power sealing magnet creates hermetic seals in materials up to 5 mil thick.
The D545 AV Band Sealer– is a continuous band sealer for pouches sealed in a vertical position.  The D545 has the advantage of a compact modern design and is ideal for applications that require accurate control of sealing temperature for consistent seal integrity.This band sealer has a temperature controller with digital readout and includes an automatic cool down function. The sealing head is adjustable in height away from the integrated conveyor to accommodate pouches from 4.5″ to 16.5″ in height.
Rollbag R1285 Velocity Order Fulfillment Bagger– The Rollbag R1285 Velocity automatic bagger is the fastest tabletop poly mailer packaging system on the market for mail order fulfillment packaging. Equipped with a reliable 4″ thermal transfer printer (203 dpi), the R1285 Velocity bagger is designed for "next-bag-out" printing—perfect for efficient mail order fulfillment packaging using poly mailers.
Visit PAC Machinery at the following other shows:

Modex | March 28-31, 2022 | Atlanta, GA | Georgia World Congress Center

West Pack | April 12-14, 2022 |  Anaheim, CA | Anaheim Convention Center 

Package Fulfillment Logistics & Delivery Expo | July 13-14 2022 | Cincinnati, OH | Duke Energy Conv. Ctr.

Pack Expo international | October 23 -25, 2022 |Chicago, IL | McCormick Place