Machine Diversity and Flexibility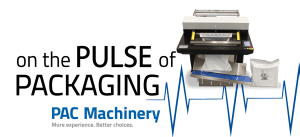 In episode two of "On the Pulse of Packaging", we interviewed Tony Printy, Regional Sales Manager for the West at PAC Machinery. Tony gave some great advice for those companies looking for packaging machinery and a more automated packaging process.
Be Flexible. What you think you are looking for, you may find out that PAC has another solution that could work better for your requirements and budget.
PAC's large range of machinery is a huge benefit to customers because it provides customers with options and allows us to better serve your packaging needs.
Tony provides a few great stories about recent visits with his customers who may end up selecting different machines than what they first set out to get after learning more about all of PAC's great product offerings as there are many ways to package a product.
"Some customers will come to PAC Machinery for a Rollbag R3200 auto bagger and then realize a 6800CS Side Sealer will do a better job of poly bagging large items. Other customers come to PAC Machinery looking for a horizontal flow wrapper for their ice cream bars and then realize a Rollbag R785 with a label printer applicator is a better fit for their footprint, budget, and required packaging output."
Tony also says that many customers are also surprised at the automation they can get from PAC Machinery's packaging equipment. Many companies are out to do more with less staff and realize that sometimes automation is better to be done in steps.
Contact our sales department to discuss your packaging needs.
[email protected]  or call 1.800.985.9570.