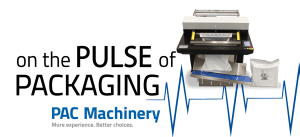 In this episode of "On the Pulse of Packaging," we interviewed Matt Litscher, a Sales Manager for PAC's largest US territory, North Central and Northeast. Matt told us that his customers in fulfillment really like the versatility that PAC Machinery equipment has. It gives them the ability to run both web orders as well as their Amazon fulfillment.  According to Matt, there is also an uptick in machinery inquiries to handle Walmart fulfillment orders as companies expand their distribution with additional online retailers as the fulfillment industry continues growth. There is a need for more automated, flexible packaging solutions to keep up with retail demand. One machine popular with fulfillment customers is the 6800CS Side Sealer (shown right). 
Matt also talked about these three advantages that PAC Machinery has with the fulfilment market: 
PAC is responsive to our customers
PAC has equipment available for most requirements
PAC has a diverse range of equipment to choose from, some of which can be available with shorter build times. 
Because of PAC's equipment availability, the Rollbag R785 is a highly recommended first machine purchase for the fulfillment market. 
The Rollbag R3200 and Magnum Horizontal are also two great machines for fulfillment and provides  an option for either horizontal or vertical bagging. (all shown right)
Contact our sales department to discuss your packaging needs.
[email protected]  or call 1.800.985.9570.