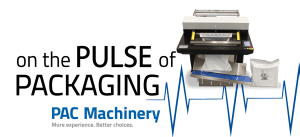 In this episode of "On the Pulse of Packaging," we interviewed Matt Litscher, a Sales Manager for PAC's largest US territory, North Central and Northeast. Matt told us that his customers in fulfillment really like the versatility that PAC Machinery equipment has. It gives them the ability to run both web orders as well as their Amazon fulfillment.  According to Matt, there is also an uptick in machinery inquiries to handle Walmart fulfillment orders as companies expand their distribution with additional online retailers as the fulfillment industry continues growth. There is a need for more automated, flexible packaging solutions to keep up with retail demand. One machine popular with fulfillment customers is the 6800CS Side Sealer (shown right). 
Matt also talked about these three advantages that PAC Machinery has with the fulfilment market: 
PAC is responsive to our customers
PAC has equipment available for most requirements
PAC has a diverse range of equipment to choose from, some of which can be available with shorter build times. 
Because of PAC's equipment availability, the Rollbag R785 is a highly recommended first machine purchase for the fulfillment market. 
The Rollbag R3200 and Magnum Horizontal are also two great machines for fulfillment and provides  an option for either horizontal or vertical bagging. (all shown right)
Contact our sales department to discuss your packaging needs.
sales@pacmachinery.com  or call 1.800.985.9570.
Video Transcript
As far as things that are trending, FBA has been huge from a growth market standpoint. A lot of people really like the fact that they can fulfill multiple machines. They can do it direct to consumer as well as send their stuff to Amazon.
You know Walmart fulfillment is getting bigger and bigger. If there's a bunch of stuff especially in the fulfillment markets, general purpose mail order has been busy you can get a lot more traction with the 6800CS-XL Fulfillment Wrapper for more bagging based applications as well as for general liquid protection and for a lot of other types of products. Fulfillment is an industry that is just growing. So for us in the sales of packaging equipment, it seems like the core business is always there. The fulfillment industry has grown leaps and bounds.
Q- And why do you think PAC has an advantage in that market with our machines?
I really think we have an advantage for a couple of reasons, the first one is just general responsiveness. You know we're fairly responsive as a sales team. Second big thing would be equipment availability. The Rollbag® R785 in particular, that machine is pretty much ready to go and we get a lot of businesses from it, it is a great machine.  
The next thing I would say that really differentiates everything is really just the Rollbag® R3200 and R3200 XL Fulfillment Bagger and or the Rollbag® Magnum Horizontal Fulfillment machines. They offer horizontal and vertical bagging so depending on the products there's something from an orientation standpoint that'll function well and obviously the ability to run tubing as well is big for a lot of customers. They save dimensional space and can right size a package. This is huge especially with the shipping rates being what they are today. Even considering shipping containers just being able to get the dimension for practice is critical for a lot of people just because they need to be able to get the stuff. They're not only in one piece but also really packed in a container which used to be like $8,000 now it's $25,000. It's one of those things where the more you can fit in definitely the better it is for FBA. From a buzzword standpoint, that would be the word to me. You know when you buy something from Amazon and it comes in the bag and it's got that little Asin SKU on it,  that's a little sticker on it. It's white with the barcode and the product description which means it was fulfilled by a third party so it wasn't an Amazon based product. Somebody actually shipped that product to be sold to them.
With the size and scope of Amazon it is truly almost unbelievable. Amazon does over a billion dollars in sales a day. Can you even imagine? I mean it's unbelievable. So many people are making so much money off Amazon. It's crazy really when you think about it.  
Check out packaging Machines for the Fulfillment industry here.https://www.pacmachinery.com/industry/e-commerce-and-fulfillment/