PAC MACHINERY'S TOP-SELLING POLY & PAPER MAILER BAGGING SOLUTIONS AND SUSTAINABLE OPTIONS AN EXHIBIT TO SEE AT PROMAT SHOW
FOR IMMEDIATE RELEASE
San Rafael, CA (February 8, 2023) – PAC Machinery (PAC) is bringing top automatic bagging machines and the NEW options in sustainable packaging it makes for these baggers to the biggest manufacturing and supply chain event of 2023 – ProMat. The bi-annual show takes place this year in Chicago at McCormick Place, March 20-23, 2023. Leaders in packaging, PAC Machinery, at exhibit N8321, will showcase the Rollbag® R785, R1285, R3200 Fulfillment Automatic Bagger and the Rollbag R3200XL along with sustainable bag options including a NEW curbside recyclable paper mailer, options from the Recylene® line of recycled poly Rollbags and other environmentally-friendly options.
ProMat attendees will learn what makes these packaging machines so ideal for fulfillment packaging including high performance and value, right size packaging to the product, and the ability to print and apply labels right on your bag among many other exciting features!
"ProMat will be another great show for PAC to showcase our wide range of Rollbag automatic baggers for poly mailing designed to save businesses time, money, and make packaging a smoother, more automated process," said Greg Berguig, PAC Machinery, Vice President. "Our systems come in a range of configurations, from tabletop to large floor-standing units with loads of customized options that can tailor a machine to a business's needs. It will also be a treat for attendees to see several of our environmentally-friendly bags running on our machines as that's really where packaging is heading as companies become more responsible in using packaging materials that are better for the environment," Berguig said.
Here is a preview of our upcoming exhibit at N8321. For more information visit our event page on our website. For more information on these machines contact us at [email protected] or call 1 (800) 985.9570. For show info promatshow.com.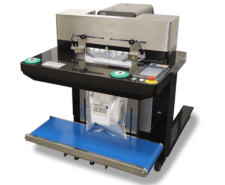 Rollbag R3200 Fulfillment
This bagger is ideal for e-commerce, order fulfillment and distribution facilities that require the highest level of performance in their order fulfillment packaging operation. The standard Rollbag R3200 works with bags up to 16″ wide x 24″ long and prints shipping information directly on the first bag out.  Info
Rollbag R3200XL Fulfillment
This system makes a bag to length, prints and applies a shipping label on it, allows it to be loaded automatically or manually and seals and separates the bag. Works with bags up to 22″ wide x 36″ long and features a seal bar opening of up to 11″. Info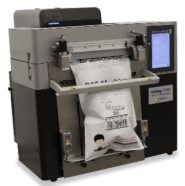 Rollbag R785 Automatic Bagger
This system is a unique, all-electric tabletop automatic poly bagger. The R785 is engineered to accommodate bags on a roll up to 12" wide and 20" long. Info
Rollbag R1285
The Rollbag R1285 automatic bagger is the fastest tabletop poly mailer packaging system on the market for mail order fulfillment packaging. Info
.
 NEW Paper Mailer
Set for a 2023 release, show attendees will be among the first to see this curbside recyclable paper mailer in action, running on our Rollbag automatic baggers.
The Recylene® line of poly mailers
are made from unique formulas with up to 100% recycled content and include a mix of ocean-bound, consumer and industrial recycled plastic, ideal for the environmentally-conscious company. This unique sustainable mailer bag is very strong and complies with USPS, UPS, and FedEx poly mailer shipping requirements. Recyclene poly mailers will run well on virtually any automatic poly mailer bagger, but when used on PAC's versatile, high-speed Rollbag machines, the combination makes for a formidable solution for fast, environmentally-conscious, E-commerce order fulfillment packaging. info